"Saraswati Puja", the goddess of knowledge, is worshipped on the fifth day of the Magh month. It is believed that worshipping the goddess during the spring season is particularly beneficial. If you wish to participate in the worship of Saraswati Mata, a detailed explanation of the mantra method for the puja is provided for you.
Saraswati worship method started
Bless the water of the Ganges at the location of the Saraswati Mata's worship. Then, place the statue or image of the goddess in front and light incense, lamps and ghee to increase positive energy flow in the surroundings. Perform the puja afterwards.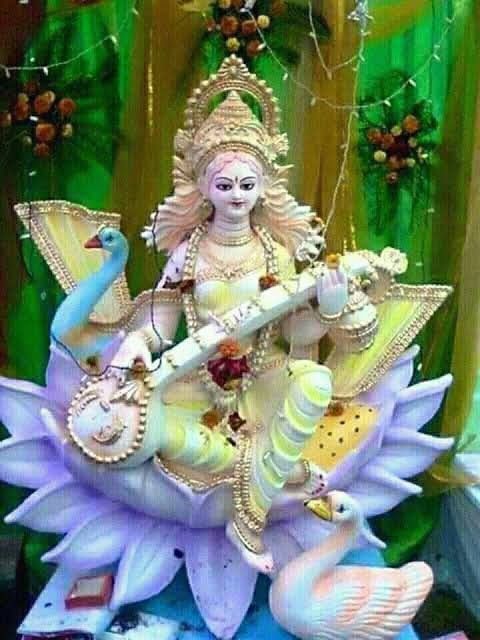 Saraswati Puja Mantra in English
Saraswati Puja Mantra-1
Yaa Kundendu tushaara haaradhavalaa, Yaa shubhravastraavritha,
Yaa veenavara dandamanditakara, Yaa shwetha padmaasana.
Yaa brahmaachyutha shankara prabhritibhir Devaisadaa Vanditha,
Saa Maam Paatu Saraswatee Bhagavatee Nihshesha jaadyaapahaa.
Meaning: "O goddess of knowledge, as fair as the moon and adorned in white, holding the veena and seated on a white lotus, protected by the gods, grant me your blessings. Help me overcome lethargy, laziness, and ignorance."
Saraswati Puja Mantra-2
Shuklaam Brahmvichaar Saar Paramaadyaam Jagadvyaapineem Veennaa Pushtak
Dhaarinneebhamay Daam Jaad Yaapandhkaaraapahaam.
Haste Sfatik Maalikaam Vidhateem Paramaasane Sansthitaam Vande Taam
Parameshwareem Bhagwateem Buddhi Pradaam Shaaradaam.
Meaning: I pay my respects to the goddess Saraswati, beautiful, powerful, and wise, holding the Veena, prayer beads, and holy texts. She is the embodiment of knowledge and has the power to remove ignorance and bestow intelligence. Moreover, she blesses her devotees with one hand.
Saraswati Puja Mantra-3
Saraswati Namasthubhyam,
Varadey Kaamarupinee!
Vidhyarambham Karishyami,
Sidhir bhavathu mey sada!
Meaning: "Oh, goddess Saraswati, I humbly bow down to you and implore for your blessings as I begin my studies with the hope of granting my wishes."
Saraswati Puja Mantra-4
Saraswati Mahabhage
Vidye Kamalalochane
Vishwaroope Vishaalaakshi
Vidyam dehi namosthuthe
Meaning: "O powerful goddess Saraswati, with eyes like lotus flowers, the embodiment of knowledge and present in all creation, bless me with the wisdom and knowledge of the world."
Saraswati Puja Mantra-5
"Om Aim Kleeng Saum Saraswatiya Namaha"
Significance: Reciting this mantra in the morning puja can turn a person into a philosopher, who achieves mastery in education.
It is said that only the educated and learned members of society worship the goddess of knowledge and learning. Therefore, they recite the mantra of the Saraswati Puja to attain the highest level of wisdom and achieve spiritual liberation.
Saraswati Puja Mantra in Hindi
Mantra-1
 या कुन्देन्दुतुषारहारधवला या शुभ्रवस्त्रावृता।
या वीणावरदण्डमण्डितकरा या श्वेतपद्मासना॥
या ब्रह्माच्युत शंकरप्रभृतिभिर्देवैः सदा वन्दिता।
सा माम् पातु सरस्वती भगवती निःशेषजाड्यापहा॥
Mantra-2
शुक्लं ब्रह्मविचार सार परमद्यं जगद्व्यापिनीम वीणा पुष्क
धारिन्नीभमय दाम जाद यापन्धकारापहाम।
हस्ते स्फातिक मालिकां विधातीं परमासाने संस्थां वंदे ताम
परमेश्वरीम भगवतीम बुद्धि प्रदाम शारदाम।
Mantra-3
सरस्वती नमस्तुभ्यं वर्दे कामरूपिणी
विद्यारम्भं करिष्यामि सिद्धिर्भवतु में सदा।
Mantra-4
सरस्वती महाभाग
विद्ये कमलालोचने
विश्वरूपे विशालक्षी
विद्यां देहि नमोस्तुथे ।
Mantra-5
"ॐ ऐं क्लीङ्ग सौं सरस्वत्याय नमः"
Saraswati Puja Mantra pdf
You can download theSaraswati Puja Mantra pdf format from the given below link.