We all know Friday as Goddess Lakshmi's day. Worshipping Goddess Lakshmi sincerely on this day will bring wealth to the house. In a house where Lakshmi Mata is worshipped daily, Maa Lakshmi permanently resides in that house. Worshipping Maa Lakshmi on Fridays to please the goddess of wealth gives special results.
If you do Aarti worshipping Maa Lakshmi morning and evening, you will always have happiness and prosperity in your home. If Maa Lakshmi is worshiped sincerely, she is pleased and bestows wealth and fortune on the devotees.
If you take shelter of Goddess Lakshmi and do Aarti and Pooja daily, Mother quickly removes all her problems. Here you can read and watch maa Lakshmi ki aarti.
Maa Laxmi ji ki Aarti lyrics Hindi
मां लक्ष्मी की आरती
ओम जय लक्ष्मी माता, मैया जय लक्ष्मी माता।
तुमको निशिदिन सेवत, हरि विष्णु विधाता॥
ओम जय लक्ष्मी माता॥
उमा, रमा, ब्रह्माणी, तुम ही जग-माता।
सूर्य-चंद्रमा ध्यावत, नारद ऋषि गाता॥
ओम जय लक्ष्मी माता॥
दुर्गा रुप निरंजनी, सुख सम्पत्ति दाता।
जो कोई तुमको ध्यावत, ऋद्धि-सिद्धि धन पाता॥
ओम जय लक्ष्मी माता॥
तुम पाताल-निवासिनि, तुम ही शुभदाता।
कर्म-प्रभाव-प्रकाशिनी, भवनिधि की त्राता॥
ओम जय लक्ष्मी माता॥
जिस घर में तुम रहतीं, सब सद्गुण आता।
सब सम्भव हो जाता, मन नहीं घबराता॥
ओम जय लक्ष्मी माता॥
तुम बिन यज्ञ न होते, वस्त्र न कोई पाता।
खान-पान का वैभव, सब तुमसे आता॥
ओम जय लक्ष्मी माता॥
शुभ-गुण मंदिर सुंदर, क्षीरोदधि-जाता।
रत्न चतुर्दश तुम बिन, कोई नहीं पाता॥
ओम जय लक्ष्मी माता॥
महालक्ष्मीजी की आरती, जो कोई जन गाता।
उर आनन्द समाता, पाप उतर जाता॥
ओम जय लक्ष्मी माता॥
Related Article: Lakshmi Mantra: Chanting this mantra of Mahalakshmi is very fruitful for wealth
Laxmi Aarti lyrics in Hindi pdf
If you want to download and read Laxmi Aarti pdf in your mobile or your computer, then download the Laxmi Aarti pdf from the link given below.
Laxmi mata Aarti lyrics Image Hindi
Download this Laxmi Aarti image in Hindi to share with your family & friends.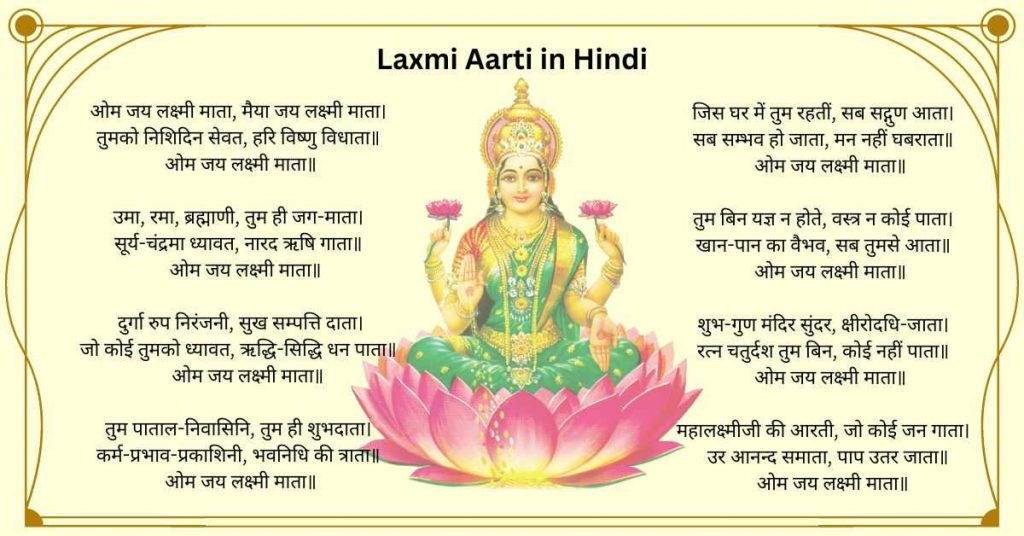 Maa Laxmi Ji Ki Aarti lyrics English
Om jay lakshmee maata, maiya jay lakshmee maata.
Tumako nishidin sevat, hari vishnu vidhaata.
Om jay lakshmee maata.
Uma, rama, brahmaanee, tum hee jag-maata.
Soory-chandrama dhyaavat, naarad rshi gaata.
Om jay lakshmee maata.
Durga rup niranjanee, sukh sampatti daata.
Jo koee tumako dhyaavat, rddhi-siddhi dhan paata.
Om jay lakshmee maata.
Tum paataal-nivaasini, tum hee shubhadaata.
Karm-prabhaav-prakaashinee, bhavanidhi kee traata.
Om jay lakshmee maata.
Jis ghar mein tum rahateen, sab sadgun aata.
Sab sambhav ho jaata, man nahin ghabaraata.
Om jay lakshmee maata.
Tum bin yagy na hote, vastr na koee paata.
Khaan-paan ka vaibhav, sab tumase aata.
Om jay lakshmee maata.
Shubh-gun mandir sundar, ksheerodadhi-jaata.
Ratn chaturdash tum bin, koee nahin paata.
Om jay lakshmee maata.
Mahaalakshmeejee kee aaratee, jo koee jan gaata.
Ur aanand samaata, paap utar jaata.
Om jay lakshmee maata.
Maa Laxmi Aarti Benefits
Laxmi Aarti is a traditional Hindu prayer to the goddess of wealth, prosperity, and good fortune. The prayer is typically sung at the end of puja, or worship, and is often accompanied by the ringing of bells and the lighting of candles. Many Hindus believe that Laxmi Aarti has the power to bring good luck and prosperity and that it is an important part of worshipping Laxmi, the goddess of wealth.
Chanting the Laxmi mantra is another way of worshipping Laxmi that is believed to have many benefits. Some of these benefits include attracting wealth and prosperity, improving one's financial situation, and bringing good luck. The mantra can be chanted at any time, but it is especially powerful when chanted during puja or other religious ceremonies.
So, if you are looking for ways to improve your financial situation or attract wealth and prosperity, chanting the Laxmi mantra or participating in Laxmi Aarti may be worth a try.
Related Article:
Mahalakshmi Ashtakam (श्री महालक्ष्मी अष्टक)
Chanting Lord Kuber Mantras for Wealth & Financial Freedom
Ganesh mantra: बुधवार के दिन करें इन गणेश मंत्रों का जाप, दूर होंगे सभी कष्ट