Santoshi Mata is the Hindu goddess of happiness and is considered a symbol of good fortune. She is the personification of satisfaction and happiness and is usually pictured sitting on a full lotus. She is often depicted with a milk-filled lotus, symbolizing purity. In a world characterized by rudeness and unhappiness, Santoshi Mata is a beacon of virtue. She is also shown with four hands, which offer protection through the Abhaya mudra.
Santoshi Mata Aarti is performed as a form of worship in the Hindu religion. It is a powerful ritual that is said to help people achieve inner peace. It also helps them to achieve happiness and satisfaction in their lives. It also helps them clear their minds of all the worries and hassles. It also opens a path to Moksha, the liberation from the material world.
Santoshi Mata Aarti lyrics in Hindi
सन्तोषी माता की आरती
जय सन्तोषी माता, मैया जय सन्तोषी माता ।
अपने सेवक जन की, सुख सम्पति दाता ॥
जय सन्तोषी माता, मैया जय सन्तोषी माता ॥
सुन्दर चीर सुनहरी, मां धारण कीन्हो ।
हीरा पन्ना दमके, तन श्रृंगार लीन्हो ॥
जय सन्तोषी माता, मैया जय सन्तोषी माता ॥
गेरू लाल छटा छबि, बदन कमल सोहे ।
मंद हंसत करुणामयी, त्रिभुवन जन मोहे ॥
जय सन्तोषी माता, मैया जय सन्तोषी माता ॥
स्वर्ण सिंहासन बैठी, चंवर दुरे प्यारे ।
धूप, दीप, मधु, मेवा, भोज धरे न्यारे ॥
जय सन्तोषी माता, मैया जय सन्तोषी माता ॥
गुड़ अरु चना परम प्रिय, तामें संतोष कियो ।
संतोषी कहलाई, भक्तन वैभव दियो ॥
जय सन्तोषी माता, मैया जय सन्तोषी माता ॥
शुक्रवार प्रिय मानत, आज दिवस सोही ।
भक्त मंडली छाई, कथा सुनत मोही ॥
जय सन्तोषी माता, मैया जय सन्तोषी माता ॥
मंदिर जग मग ज्योति, मंगल ध्वनि छाई ।
विनय करें हम सेवक, चरनन सिर नाई ॥
जय सन्तोषी माता, मैया जय सन्तोषी माता ॥
भक्ति भावमय पूजा, अंगीकृत कीजै ।
जो मन बसे हमारे, इच्छित फल दीजै ॥
जय सन्तोषी माता, मैया जय सन्तोषी माता ॥
दुखी दारिद्री रोगी, संकट मुक्त किए ।
बहु धन धान्य भरे घर, सुख सौभाग्य दिए ॥
जय सन्तोषी माता, मैया जय सन्तोषी माता ॥
ध्यान धरे जो तेरा, वांछित फल पायो ।
पूजा कथा श्रवण कर, घर आनन्द आयो ॥
जय सन्तोषी माता, मैया जय सन्तोषी माता ॥
चरण गहे की लज्जा, रखियो जगदम्बे ।
संकट तू ही निवारे, दयामयी अम्बे ॥
जय सन्तोषी माता, मैया जय सन्तोषी माता ॥
सन्तोषी माता की आरती, जो कोई जन गावे ।
रिद्धि सिद्धि सुख सम्पति, जी भर के पावे ॥
जय सन्तोषी माता, मैया जय सन्तोषी माता ।
अपने सेवक जन की, सुख सम्पति दाता ॥
Aarti of Santoshi Mata Lyrics PDF
If you want to download and read Aarti of Santoshi Mata Lyrics in your mobile or your computer, then download the Aarti of Santoshi Mata Lyrics PDF from the link given below.
Aarti of Santoshi Mata Image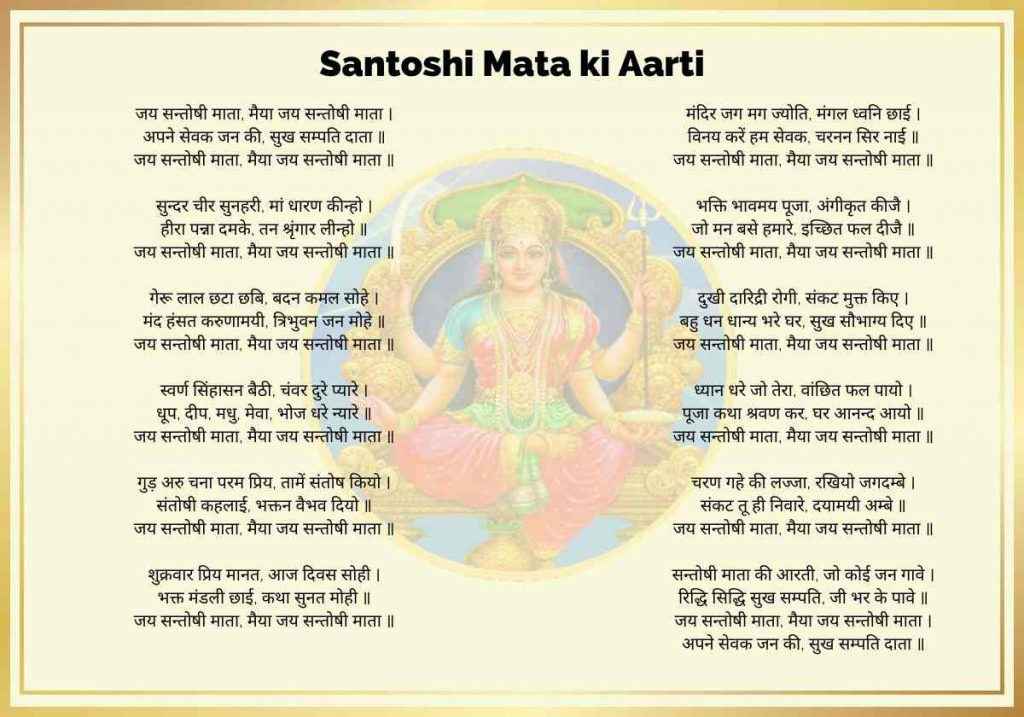 Santoshi Mata ki Aarti Benefits
The Santoshi Mata Aarti benefit can be used to resolve problems in relationships, love, and finances. It can also be used to reduce the effects of black magic and other negative energies. It is also believed to protect us from ill health and harm. As such, Santoshi Mata Aarti is a powerful puja that helps us find the inner peace we are seeking.
How To Do Santoshi Mata ki Aarti?
When performing Santoshi Mata Aarti, it is important to remember that you should keep incense burning during the devotional process. Also, you should place a picture of Santoshi Mata over a ghee lamp and serve prasad made of gor and chana.
Santoshi Mata ki Aarti Lyrics English
Jai Santoshi Mata, Maiya Jai Santoshi Mata।
Apne Sewak Jan Ki, Sukh Sampati Data॥
Sundar Chir Sunahri Maa Dharan Kinhon।
Hira Pana Damke, Tan Shringar Linyoh॥
॥ Jai Santoshi Mata…॥
Geru Lal Chhata Chhavi, Badan Kamal Sohe।
Mand Hansat Karunamayi, Tribhuvan Jan Mohe॥
॥ Jai Santoshi Mata…॥
Swarna Sinhasan Baithi, Chanvar Dhure Pyare।
Dhup, Deep, Madhu, Mewa, Bhog Dhare Nyare॥
॥ Jai Santoshi Mata…॥
Gud Aur Chana Param Priya, Tamen Santosh Kiyo।
Santoshi Kahlai, Bhaktan Vaibhav Diyo॥
॥ Jai Santoshi Mata…॥
Shukrawar Priya Manat, Aaj Divas Sohi।
Bhakti Mandali Chhai, Katha Sunat Mohi॥
॥ Jai Santoshi Mata…॥
Mandir Jag Mag Jyoti, Mangal Dhwani Chhai।
Vinai Kare ham Sewak, Charnan Sir Nai॥
॥ Jai Santoshi Mata…॥
Bhakti Bhawmai, Puja Angikrit Kijai।
Jo Man Vasai Hamare, Ichhit Phal Dijai॥
॥ Jai Santoshi Mata…॥
Dukh Daridri Raug, Sankat Mukt Kijai।
bahu Dhan Dhany Bhare Ghar, Sukh Saubhagya Keejai॥
॥ Jai Santoshi Mata…॥
Dhyan Dhare Jo Tera, Manvanchhit Phal Payo।
Puja Katha Shravan Kar, Ghar Anand Aayo॥
॥ Jai Santoshi Mata…॥
Charan Gahe Ki Lajja, Rakhiyo Jagdambe।
Sankat Tu Hi Niware, Dayamayi Ambe॥
॥ Jai Santoshi Mata…॥
Santoshi Mata Ki Aarti, Jo Koi Jan Gavai।
Riddhi-siddhi Sukh Sampati, Ji Bhar Ke Pavai॥
॥ Jai Santoshi Mata…॥
Jai Santoshi Mata, Maiya Jai Santoshi Mata।
Apne Sewak Jan Ki, Sukh Sampati Data॥
Related Article: