The Om Jai Jagdish Hare AARTI is a small AARTI sung to Lord Vishnu. The composition of the Aarti makes the listener feel at one with God and offers hope in their hearts. It is used during Aarti (Hindu worship).
This prayer is sung in Hindu homes by Hindus throughout the world. The name Jagdish means ruler of the world and refers to Lord Shri Vishnu. You can download the PDF for Om Jai Jagdish Hare Aarti by clicking the download button below.
This prayer was composed by Pundit Shraddaram Filulori in 1870. It is a common chant for all occasions, including worship, festivals, and other special occasions. Many devotees believe that meditating on this prayer brings the virtue of all the gods into their hearts.
Om Jai Jagdish Hare Aarti Lyrics in Hindi
ॐ जय जगदीश हरे लिरिक्स
ॐ जय जगदीश हरे , स्वामी जय जगदीश हरे ।
भक्त जनों के संकट, दास जनों के संकट, क्षण में दूर करे ॥
॥ ॐ जय जगदीश हरे..॥
जो ध्यावे फल पावे, दुःख बिनसे मन का, स्वामी दुःख बिनसे मन का ।
सुख सम्पति घर आवे, सुख सम्पति घर आवे, कष्ट मिटे तन का ॥
॥ ॐ जय जगदीश हरे..॥
मात पिता तुम मेरे, शरण गहूं किसकी, स्वामी शरण गहूं मैं किसकी ।
तुम बिन और न दूजा, तुम बिन और न दूजा, आस करूं मैं जिसकी ॥
॥ ॐ जय जगदीश हरे..॥
तुम पूरण परमात्मा, तुम अन्तर्यामी, स्वामी तुम अन्तर्यामी ।
पारब्रह्म परमेश्वर, पारब्रह्म परमेश्वर, तुम सब के स्वामी ॥
॥ ॐ जय जगदीश हरे..॥
तुम करुणा के सागर, तुम पालनकर्ता, स्वामी तुम पालनकर्ता ।
मैं मूरख फलकामी, मैं सेवक तुम स्वामी, कृपा करो भर्ता॥
॥ ॐ जय जगदीश हरे..॥
तुम हो एक अगोचर, सबके प्राणपति, स्वामी सबके प्राणपति ।
किस विधि मिलूं दयामय, किस विधि मिलूं दयामय, तुमको मैं कुमति ॥
॥ ॐ जय जगदीश हरे..॥
दीन-बन्धु दुःख-हर्ता, ठाकुर तुम मेरे, स्वामी रक्षक तुम मेरे ।
अपने हाथ उठाओ, अपने शरण लगाओ, द्वार पड़ा तेरे ॥
॥ ॐ जय जगदीश हरे..॥
विषय-विकार मिटाओ, पाप हरो देवा, स्वमी पाप(कष्ट) हरो देवा ।
श्रद्धा भक्ति बढ़ाओ, श्रद्धा भक्ति बढ़ाओ, सन्तन की सेवा ॥
ॐ जय जगदीश हरे, स्वामी जय जगदीश हरे ।
भक्त जनों के संकट, दास जनों के संकट, क्षण में दूर करे ॥
Om Jai Jagdish Hare Aarti pdf
You can download and read Om Jai Jagdish Hare Aarti pdf in your mobile or your computer, Click the below link to download.
Lyrics for Om Jai Jagdish Hare Aarti Image
Download this Om Jai Jagdish Hare Aarti image in Hindi to share with your family & friends.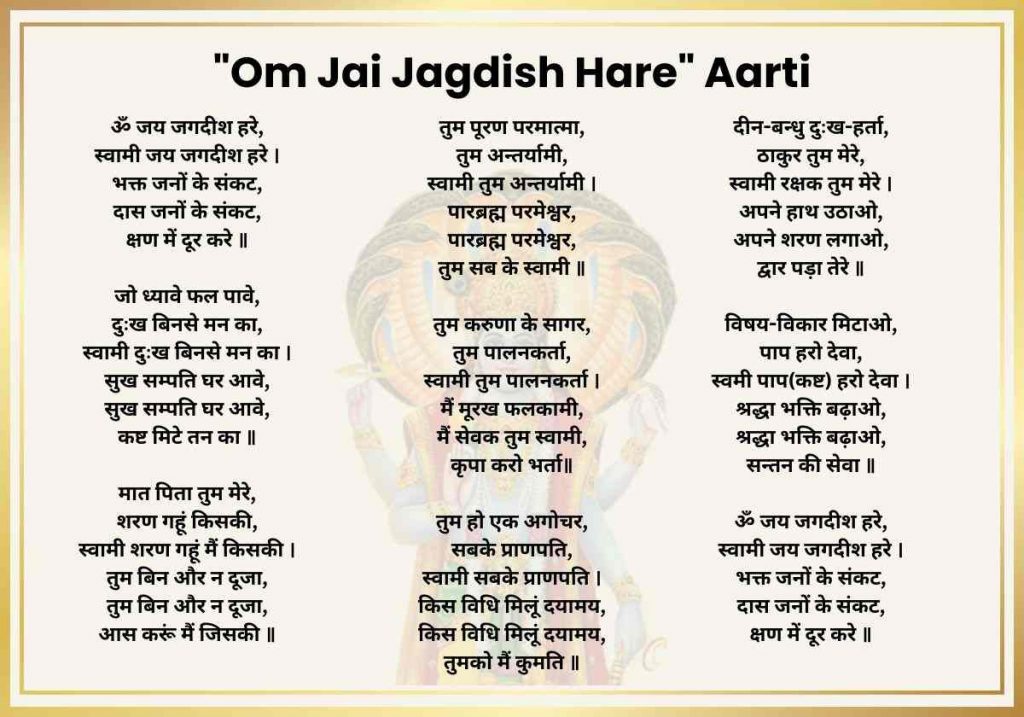 Aarti can be chanted in any language. It is performed with complete devotion. It can be performed in the temple or the home. It is essential to take a fast before performing Aarti to gain its full benefits. If you do not have the time to attend a temple, it is perfect for reciting the Aarti in your home.
This prayer is said at the beginning of the day. The word Om is an acronym for "Om Jai Jagdish Hare." The name of Vishnu can be interpreted as "thakura ji" or "thakura ji." The word Hare refers to the name of Radha. The Aarti also invokes the general Almighty, the Brahman.
Om Jai Jagdish Hare Lyrics English
Om Jaye Jagdish Hare, Swami Jaye Jagdish Hare॥
Bhagt Jano Ke Sankat, Khshan Mein Door Kare॥
Jo Dhaywe Phal Pave, Dukh Vinse Man Ka॥
Sukh Sampati Ghar Aave, Kasht Mite Tan Ka॥
Maat-Pita Tum Mere, Sharan Gahun Kiskee॥
Tum Bin Aur Na Duja, Aas Karun Jiskee॥
Tum Puran Parmatma, Tum Antaryami॥
Par-Brahm Parmeshwar, Tum Sabke Swami॥
Tum Karuna Ke Saagar, Tum Palankarta॥
Main Moorakh Khal Kami, Mein Sewak Tum Swami,
Kripa Karo Bharta …
Tum Ho Ek Agochar, Sabke Pran Pati॥
Kis Vidhi Milun Dayamay, Tumko Main Kumti॥
Deenbandhu Dukh Harta, Thakur Tum Mere, Swami Rakshak Tum Mere॥
Apne Hath Uthaao, Apni Sharan Lagao,
Dwar Para Tere …
Vishay Vikaar Mitaao, Paap Haro Deva॥
Shradha Bhakti Badhaao, Santan Ki Sewa॥
Om Jaye Jagdish Hare, Swami Jaye Jagdish Hare॥
Bhagt Jano Ke Sankat, Khshan Mein Door Kare॥
Related Article: