Radha Krishna is deeply in love with each other. So, their names become one, our mind is only one thing their love story. We all never say Radha without Krishna.
Krishna Radha Quotes
Radha Krishna's sincere love and devotion has touched our hearts, their love story is instructive to us for ages. In this article, we will understand what true love means for Radha-Krishna through Radha Krishna quotes mentioned below.
Krishna Radha Quotes in Hindi
1
एक तरफ साँवले कृष्ण, दूसरी तरफ राधिका
गोरीजैसे एक-दूसरे से मिल गए हों चाँद-चकोरी।
Ek Tarf sawale krishn dusri taraf radhika
gorijese ek dusre se mil gaye ho chand chakori.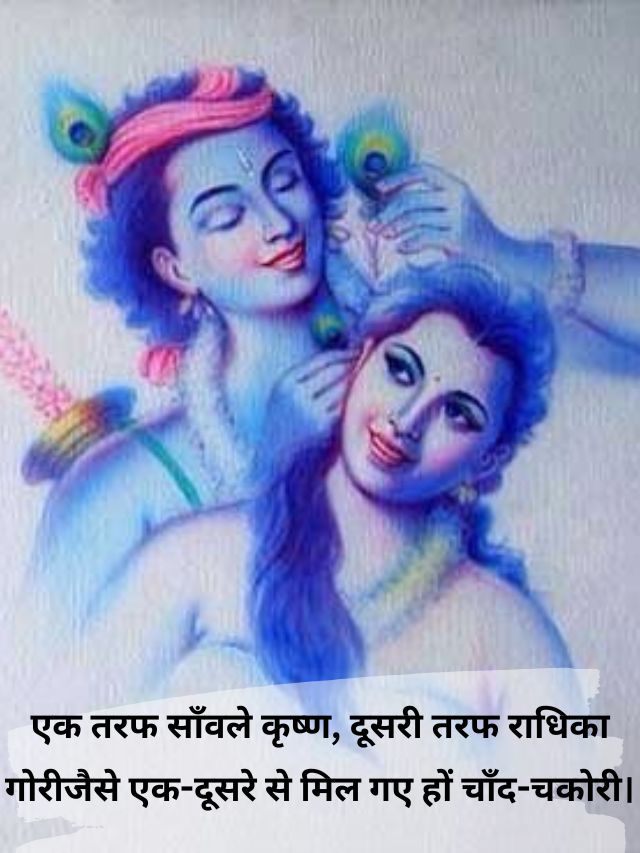 2
प्रेम का मतलब कोई रिश्ता या संबंध बन जाना नही,
प्रेम का तो मतलब है कण-कण में बिखरकर आंनदित हो जाना।
Prem ka matalab koee rishta ya sambandh ban jaana nahee,
Prem ka to matalab hai kan-kan mein bikharakar aannadit ho jaana.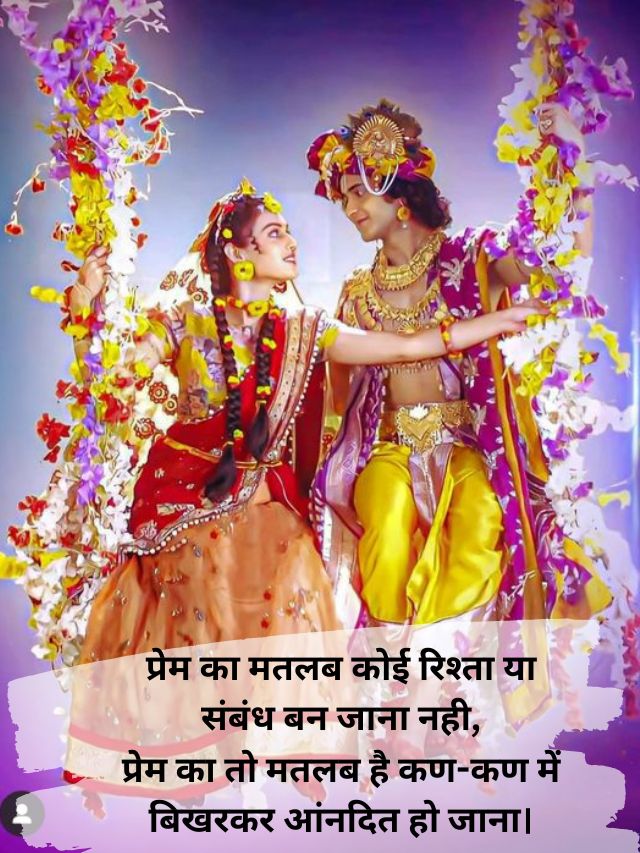 3
कान्हा को राधा ने प्यार का पैगाम लिखा,
पुरे खत में सिर्फ कान्हा कान्हा नाम लिखा।
kaanha ko raadha ne pyaar ka paigaam likha,
Pure khat mein sirph kaanha kaanha naam likha.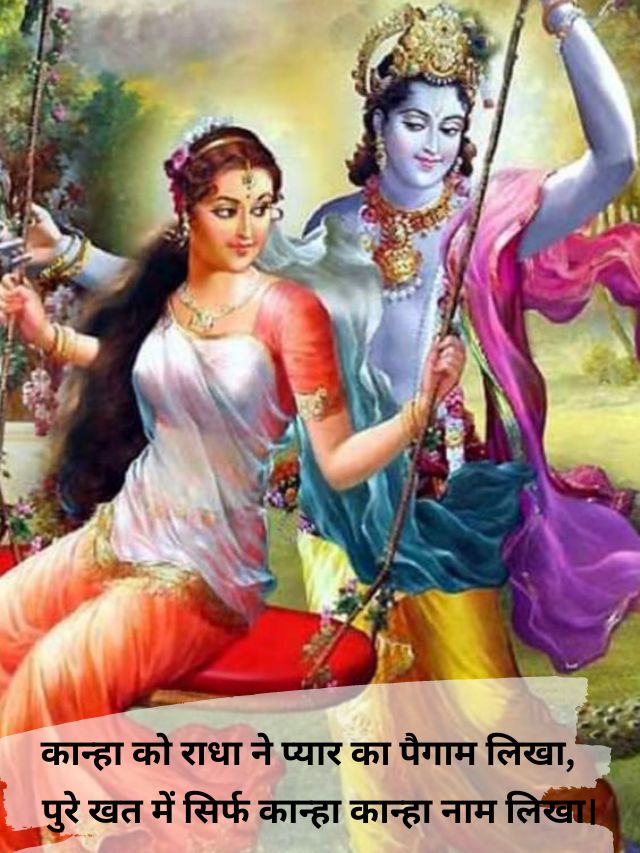 4
कान्हा, अपना बना लो हमें, अपनी बाँहों में छुपा लो हमें..
बिन तुम्हारे दिन कटते नहीं, आकर हमसे चुरा लो हमें
Kaanha, apana bana lo hamen, apanee baanhon mein chhupa lo hamen..
Bin tumhaare din katate nahin, aakar hamase chura lo hamen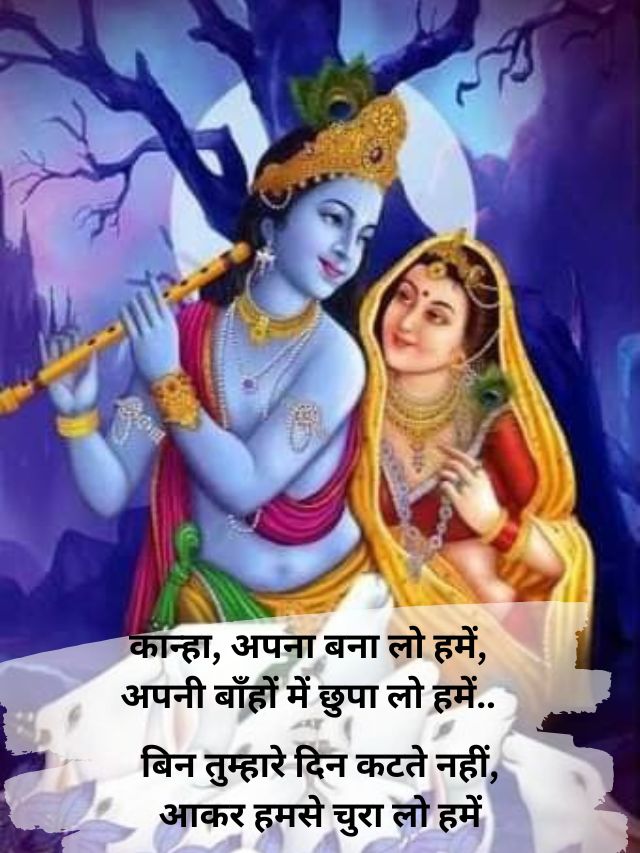 Related Article: Krishna Statue & idol best Price in India
Quotes of Radha Krishna
5
पर्दा ना कर पुजारी दिखने दे राधा प्यारी
मेरे पास वक्त कम हैं, और बाते हैं ढेर सारी
Parda na kar pujaaree dikhane de raadha pyaaree
Mere paas vakt kam hain, aur baate hain dher saaree.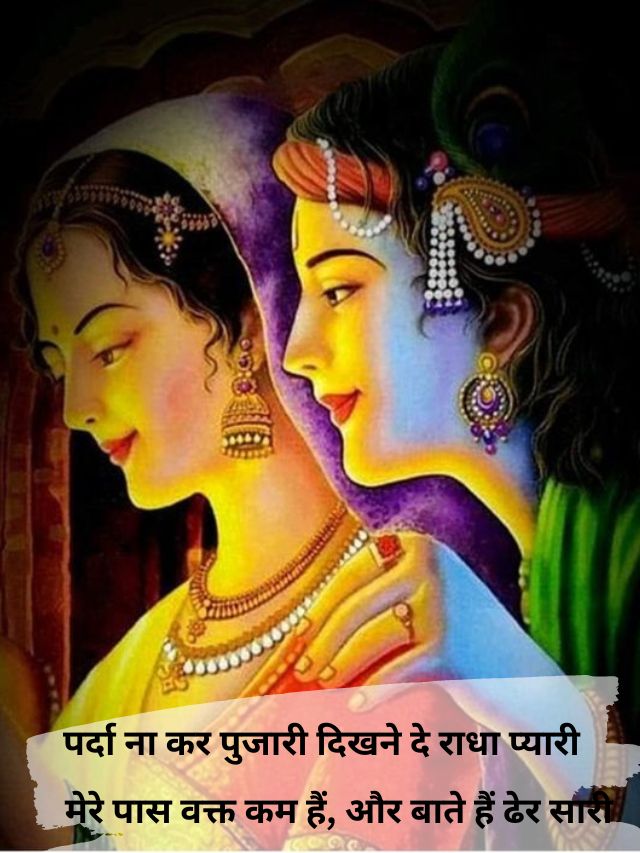 6
लाखों लोग मिलकर दुनिया बनाते हैं पर
मेरे लिए तो सिर्फ़ तुम ही दुनिया हो।
Laakhon log milakar duniya banaate hain
Par mere lie to sirf tum hee duniya ho.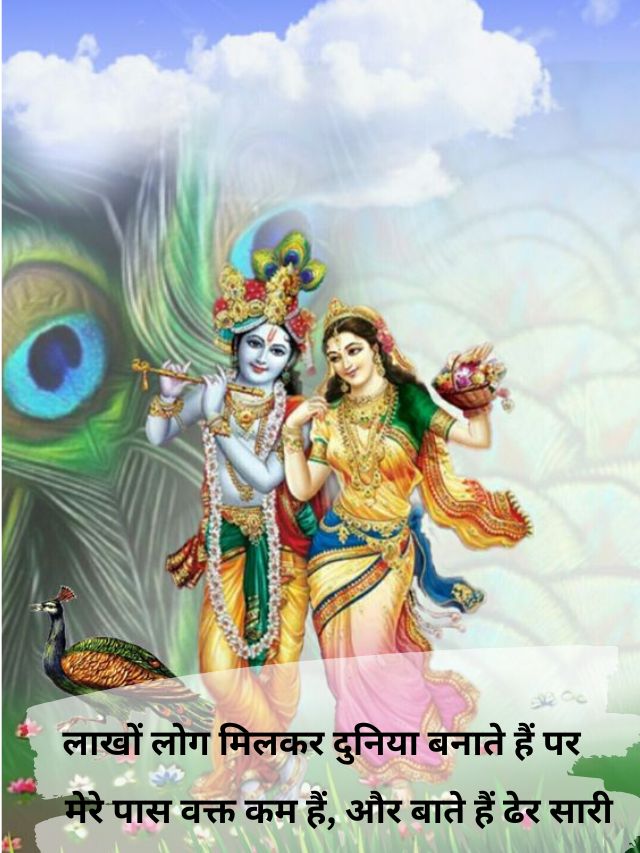 7
श्याम की बंसी जब भी बजी है,
राधा के मन में प्रीत जगी है.
Shyaam kee bansee jab bhee bajee hai,
Raadha ke man mein preet jagee hai.
8
जैसे राधा ने माला जपी श्याम के नाम की,
मैं भी ओढु चुनरिया तेरे नाम की..
Jaise raadha ne maala japee shyaam ke naam kee,
Main bhee odhu chunariya tere naam kee..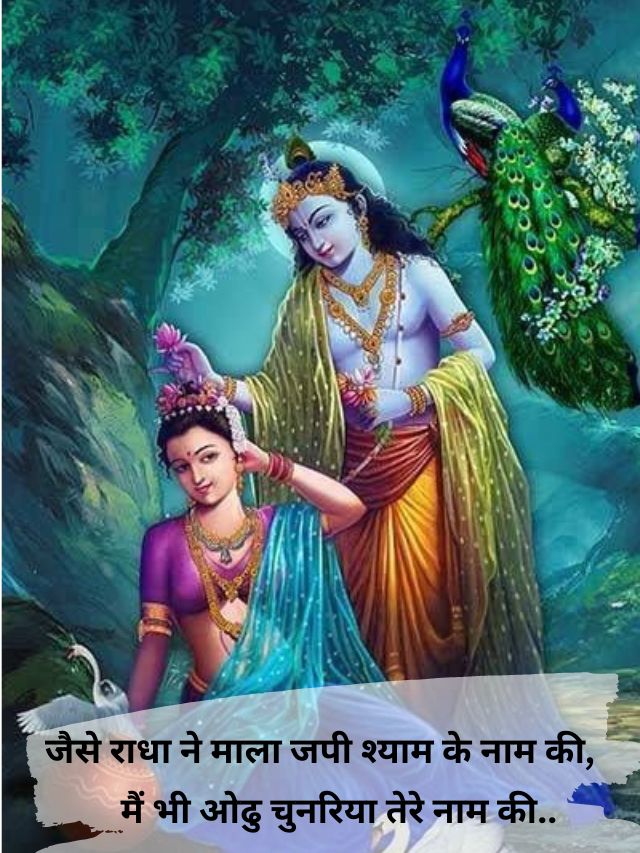 Related Article: Beautiful Laddu Gopal Murti for your Home
Radha Krishna Love Quotes in Hindi
9
जिस पर राधा को मान हैं,
जिस पर राधा को गुमान हैं,
यह वही कृष्ण हैं जो राधा
के दिल हर जगह विराजमान हैं।
Jis par raadha ko maan hain,
Jis par raadha ko gumaan hain,
Yah vahee krshn hain jo raadha
Ke dil har jagah viraajamaan hain.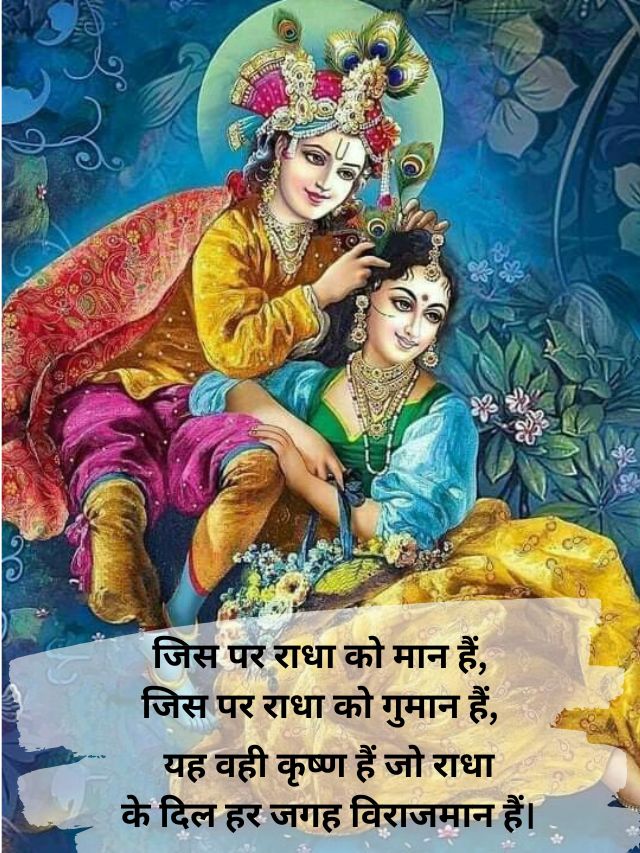 10
मेरे मोहना…
बिछड़ जाऊं तुझसे तो तेरी यादों से रिश्ता जोड़ूंगी
मुझे जिद है जीने का कोई मौका नही छोडूंगी
Mere mohana…
Bichhad jaoon tujhase to teree yaadon se rishta jodoongee
Mujhe jid hai jeene ka koee mauka nahee chhodoongee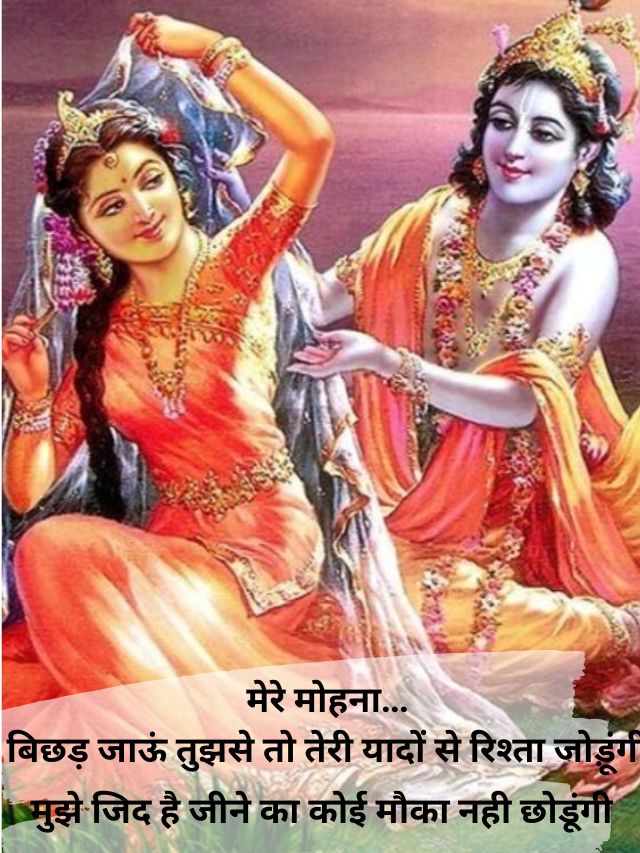 11
राधा कृष्ण का मिलन सिर्फ एक बहाना था,
दुनिया को प्यार का सही अर्थ बताना था।
Raadha krshn ka milan sirph ek bahaana tha,
Duniya ko pyaar ka sahee arth bataana tha.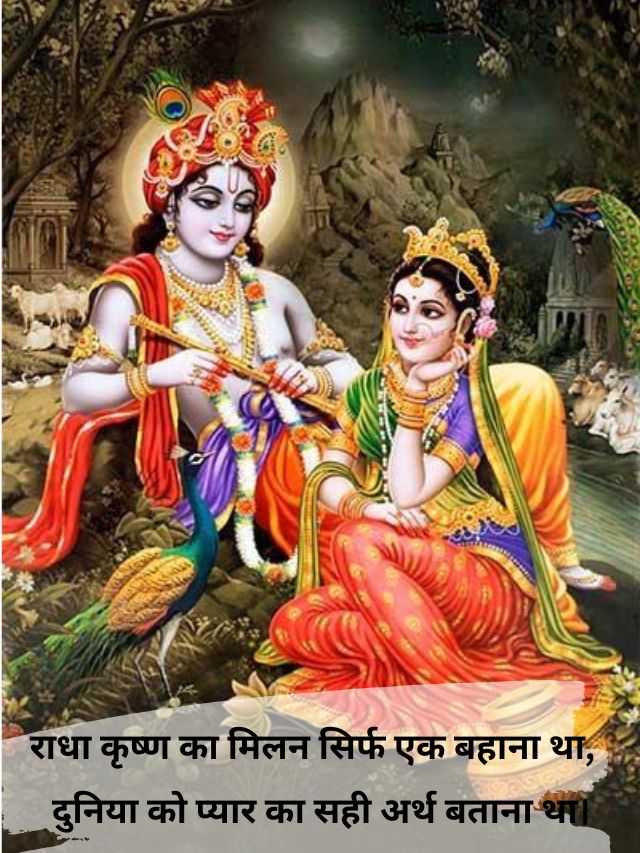 12
सुना कृष्ण का प्रेम बांसुरी जब भी कान्हा मुरली बजाते हैं,
राधा रानी दौड़ती हुई आती हैं।
Suna krshn ka prem baansuree jab bhee kaanha muralee bajaate hain,
Raadha raanee daudatee huee aatee hain.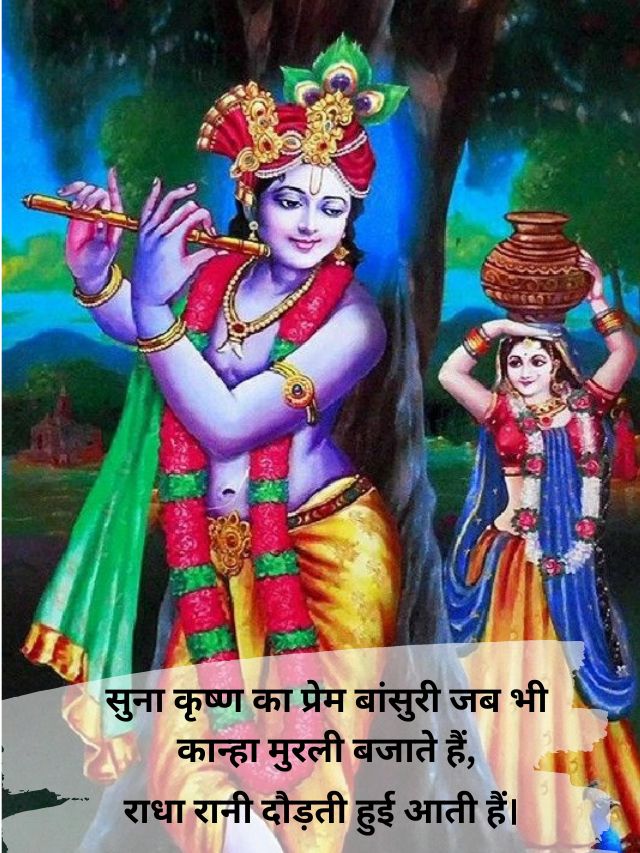 Radha Krishna Quotation in Hindi
13
प्रेम की भाषा बड़ी आसान होती हैं,
राधा-कृष्ण की प्रेम कहानी ये पैगाम देती हैं।
Prem kee bhaasha badee aasaan hotee hain,
Raadha-krshn kee prem kahaanee ye paigaam detee hain.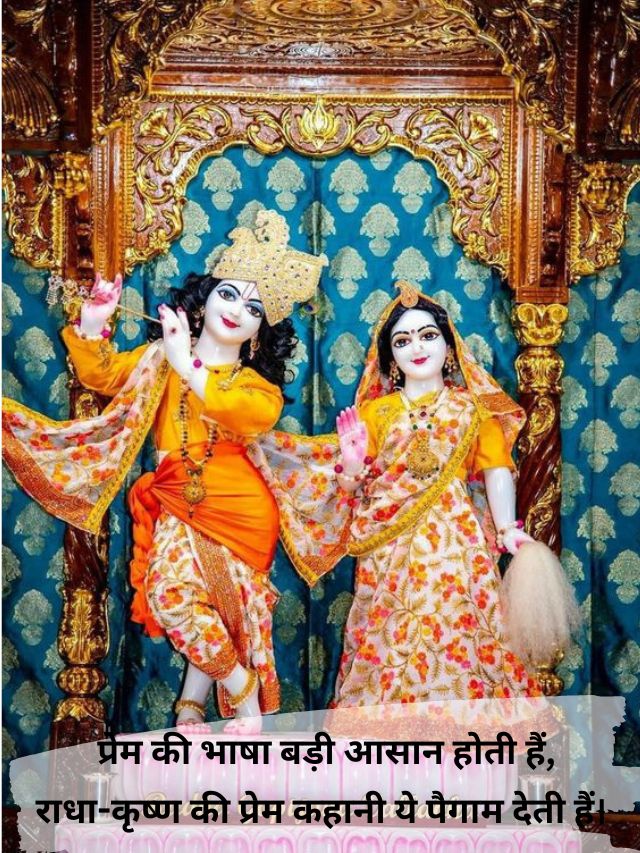 14
जो अधूरी होकर भी पूरी है
जिसके बिना ये दुनिया सुनी है…
वही तो मेरी राधा कृष्ण की जोड़ी है…!!
Jo adhooree hokar bhee pooree hai
Jisake bina ye duniya sunee hai…
Vahee to meree raadha krshn kee jodee hai…!!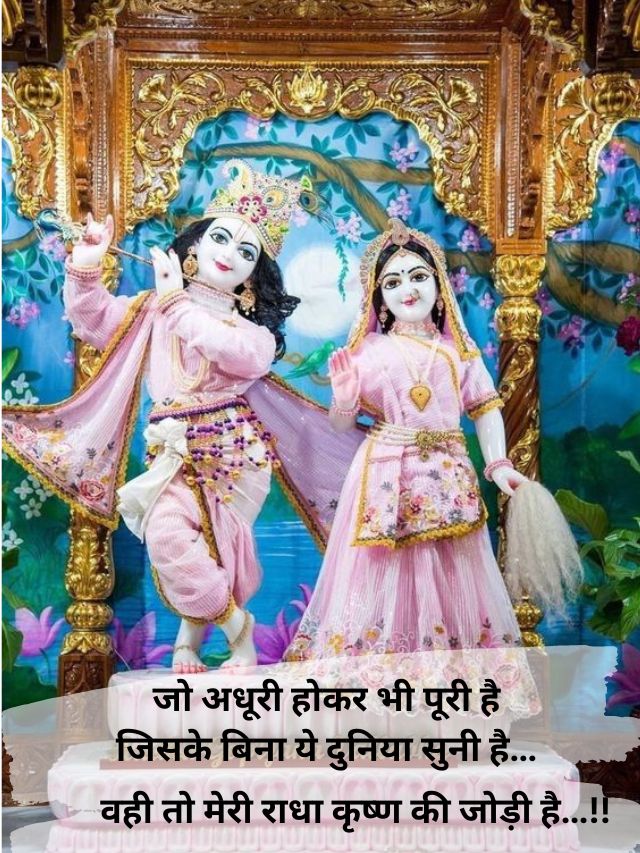 15
यदि प्रेम का मतलब सिर्फ पा लेना होता,
तो हर हृदय में राधा-कृष्ण का नाम नही होता।
Yadi prem ka matalab sirph pa lena hota,
To har hrday mein raadha-krshn ka naam nahee hota.
16
राधा की चाहत हैं कृष्ण,
उसके दिल की विरासत हैं कृष्ण,
चाहे कितना भी रास रचा ले कान्हा
दुनिया तो फिर भी यही कहती हैं..
Raadha kee chaahat hain krshn,
Usake dil kee viraasat hain krshn,
Chaahe kitana bhee raas racha le kaanha
Duniya to phir bhee yahee kahatee hain..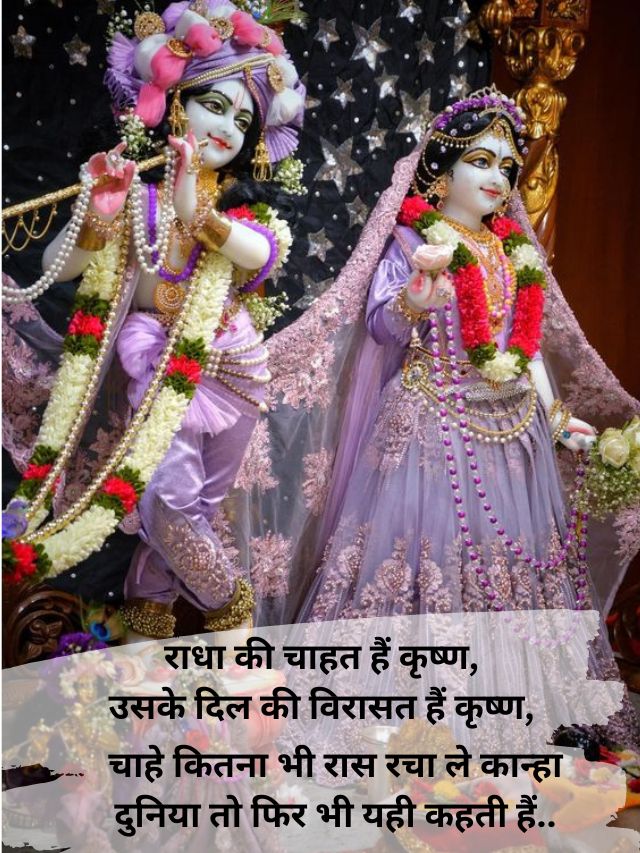 Radha Krishna Love Quotes
17
राधा के सच्चे प्रेम का यह ईनाम हैं,
कान्हा से पहले लोग लेते राधा का नाम हैं।
Raadha ke sachche prem ka yah eenaam hain,
Kaanha se pahale log lete raadha ka naam hain.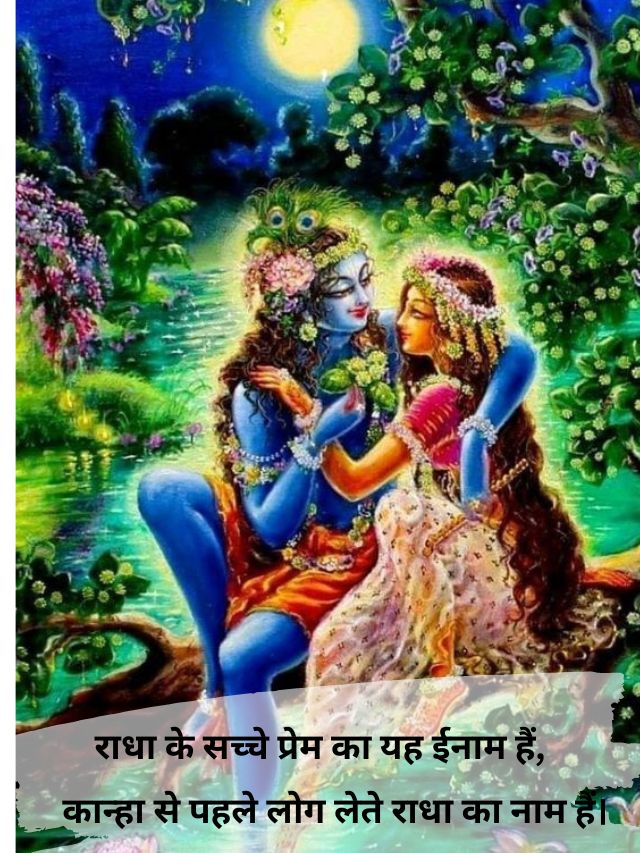 18
मेरे गोविंद
कोई रस्म बाकी ना रही मोहब्बत निभाने के लिए
बताओं कितना और चाहूँ तुम्हें पाने के लिए…
Mere Govind
Koee rasm baakee na rahee mohabbat nibhaane ke lie
Bataon kitana aur chaahoon tumhen paane ke lie…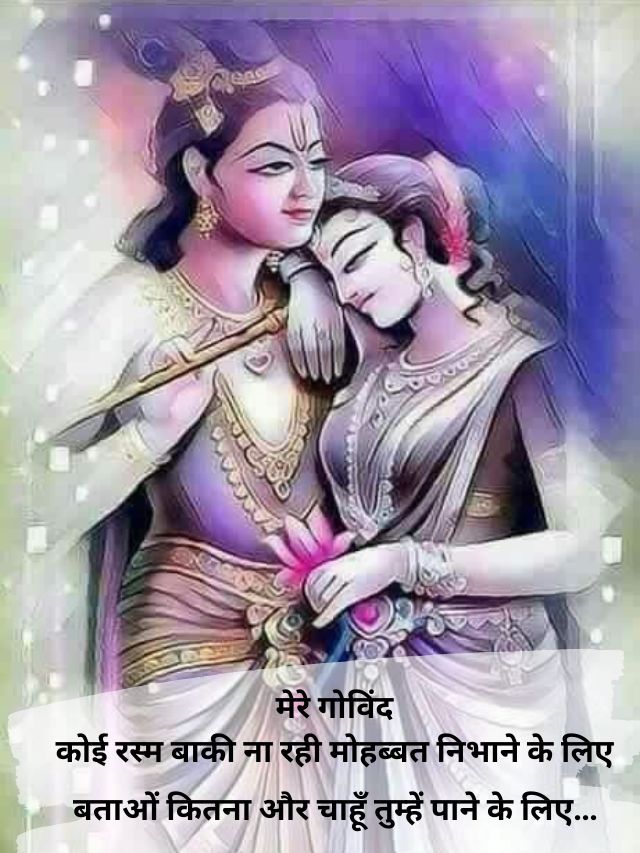 Disclaimer: Some photos were taken from the Internet. Contact us if you have any issues or copyright; we will remove the image immediately. Our goal is simply to spread spirituality within all humans in the world.
Related Article: